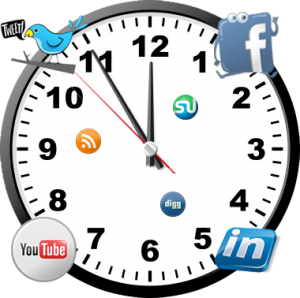 18 months ago, if you had told me I would be attracting new clients to my business from Facebook I would have said you were crazy!  Back then I was not a prolific user of Facebook. In fact, I rarely used it at all. So you can understand how dismayed and annoyed I was when I logged onto Facebook one day and discovered that there in my message box was an invitation from my nephew to his daughters first birthday.  "Who on earth sends an invitation to anyone through Facebook!" I blurted to Murray.  Well, haven't times changed!
Now, of course, like so many, it's one of my favourite and most effective ways of staying in touch with family, friends, my clients, business colleagues and people interested in what I do.
I'm now at the point where I can sometimes assume everyone else has a handle on Facebook and the other major social media streams. But as I speak with my clients, it seems that there is still a long way to go in helping everyone to be educated on the benefits and the ease of using Social Media to create credibility, visibility which will attract more clients and grow your business.
I have had months where I can directly attribute over $10 000 of income to Facebook alone. Like it or not, it is here to stay for the time being. Yes, there may be something else around the corner (there always is), but for now it's important to embrace the fact that there are over half a billion users, and it MUST be seriously and strategically used as a potential way to get more clients to your business.
I read a great book recently "30 Minute Social Media Marketing" by Susan Gunelius.  I want to share some of the steps to getting started 'right'.
1. Determine Your WHY and be disciplined
What do you want to get out of your social Web participation? Why are you doing it? Are you trying to generate direct sales? Are you trying to offer a form of customer service? Do you want to build relationships with customers and clients and boost loyalty? Which media is the most appropriate for the audience you are trying to target?   Your answers to these questions greatly affect the type of content you publish and the activities you participate in on the social Web.
I'm not sure if you've experienced something similar, but many people find themselves running all over the place…. You click on a link that catches your attention, then you find yourself on a new page and something else interests you here and before you know it; several hours have passed!  This is the reason you need discipline. It helps if you schedule a certain amount of time in your day, even set a timer if you need to.  In that limited time you want to check in, do what you need, and then get the heck out.
The time you need to spend will be determined by your focus and goals, but the important thing is to maintain the discipline and not get distracted.
2.  Know your audience:
Where does your target audience spend time online?  It can be overwhelming to try to create a presence on all social media platforms. Determine which is going to be the most effective for your audience and focus on building your presence deep here first.
What kind of content and conversations do the audience members get most vocal about? What kind of information do they want from you?  What do they dislike? Remember, you're not just publishing marketing messages on the social Web. You need to find out what your audience wants and needs, so you can provide the kind of content they find useful and interesting. However, you also need to be personable, so they actually want to interact with you. Building relationships is one of the most valuable results you can get from effectively using Social Media.
3. Use the Tools Wisely!
I've mentioned how important it is to be disciplined and limit your time on social media; so when people see my presence they will often ask "Do you sit on there all day??" – The answer is simply no.  As well as interacting personally regularly throughout the day, I make great use of some tools that will leverage your time in this department.
I really love using Hootsuite but I will share others here with you as well. Hootsuite allows me to manage my personal Facebook profile, my business Fanpage, my Twitter account and my LinkedIn account from one central location. When I say central location, Hootsuite is a web-based application and you do not physically have to login to each individual social media site to "see" what is happening with your account. Hootsuite also has a app for smart phones that you can install on your phone. This allows you to literally manage your social media from anywhere!
Other social media management platforms include TweetDeck, Ping.fm, and a relative newcomer; Social Sprout.
You can never stop listening and learning. For success in social media marketing, you need to be flexible and accept that change is good.
Client Building Action Steps:
Identify what you desire from your marketing efforts
Use the 80/20 rule – 80% of the time posting non self promotional information and no more than 20% of your time on self promotional activities
Create a schedule – allocate specific times of your day to devote to social media marketing – and then stick to it!
Social media should be fun!  If you would still like to learn more about this incredibly simple way to market and grow your business, I'd like to invite you to get a copy of a special FR*EE report I've got especially for you. "Learn how to unleash the power of Facebook in your online business."
Grab your copy:    ==<Click Here>==